Welcome to the Digital Talking Bible Website!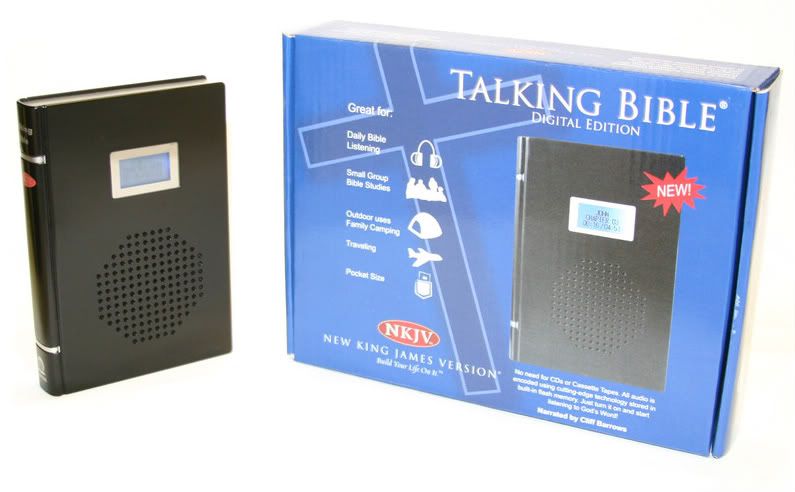 Welcome to the Digital Talking Bible Website. For years the Word of God has been printed and made readily available to thousands of people across the globe. With advancements in technology the Bible can now be put in an easy-to-use and portable audio book, the Digital Talking Bible. The Bible states that, "So faith comes from hearing, and hearing through the word of Christ" (Romans 10:17) and the DTB seeks to provide all with the opportunity to hear the word of Christ!
We encourage all to browse through our website to learn more about the Digital Talking Bible.
The Digital Talking Bible is a small, portable, hand held audio book of the Holy Bible. Some of the features the Digital Talking Bible provides are:
Complete New Testament (Old Testament and New Testament)
Small/Pocket Sized

Portable (Battery operated)
Headphone jack for personal listening
Built-in speaker for group listening
Available Blue and Black

In addition to the technical specs the Digital Talking Bible (DTB) is widely applicable in a vareity of foreign languages. Here is a list of langauges that can be purchased upon request (done through the contacts page):
Swahili (Kenya, Uganda, and Tanzania)
Hokkien (china, Malaysia, Taiwan, and Singapore)
Bengali (Bangladesh and parts of India)
Hausa (Nigeria, Ghana, Sudan)
All in all the DTB is a great resource for those seeking an alternative median in studying the word of God. The DTB is a great gift for people of all ages. The DTB gives an opportunity for the illiterate or those with hearing problems to enjoy the promises and comforts of God through His scriptures.